*Disclaimer* These were taken at 11pm after a long day of work, class, and paper writing. Also, I did not use an iron...obviously. I just really wanted to post this!
Last week, I went to Gather Here in Cambridge, MA to buy some new fabric. I ran across this great blue and white nautical organic jersey that I thought would be perfect for a wrap dress. I have this great blue wrap dress from Banana Republic that fits like a dream...and I wanted another one! Well...this is the first step in the process. I thought I would be creative and use buttons instead of ties to make it a little unique, and maybe even a little cuter. Turns out you shouldn't try to reinvent the wheel. I didn't alter the shape of the bodice pieces to accommodate this (= baggy neckline), and as the day goes by, the soft, stretchy jersey gets too loose for a little button to hold it in place. Well...lesson learned. Take 2 will have to wait til I get a little more free time, but until then, I'm pretty happy with it! It's super cozy, and the pattern is very contemporary. Just take a look at these beautiful pieces.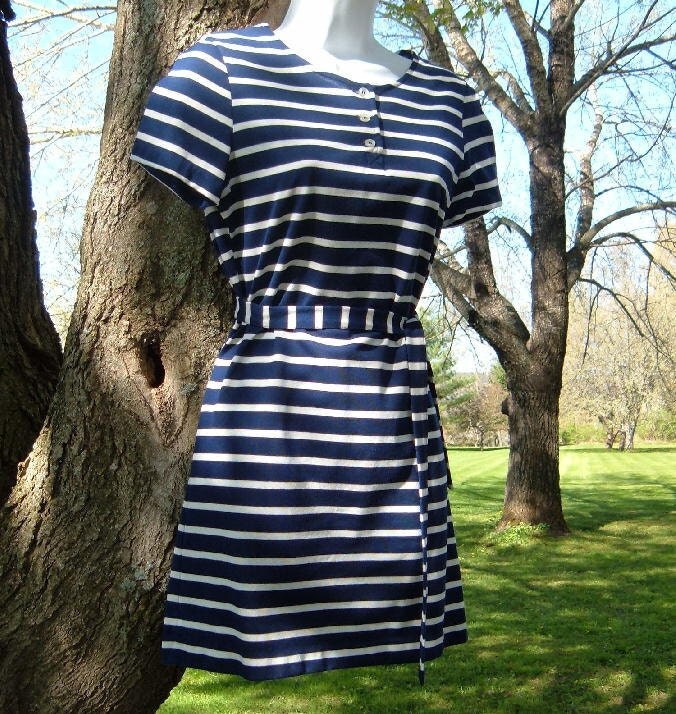 Check out more cute nautical inspirations
here!
I did a simple rolled hem with my serger. I thought about doing a bold lining, but I didn't have a white jersey, and I thought a stiffer cotton would make it drape wrong. I'm thinking about doing a full hem around all the edges, but I'm going to wait and see what it looks like once I put on the ties. I am thinking of making the ties out of a bright white. Hopefully in jersey, but perhaps in some spare cotton lining I have lying around. We'll see. Mainly I didn't want to do the ties because you need to have a hole in the hem to pass the tie through, and I hate needing to wear something underneath so you're not just looking at my side. Anyhow, I admit defeat, and will have to continue this project another day. I am already fantasizing about graduating from school and having free time again! It hasn't even been a year yet! Whew!
Any suggestions on how I could improve this piece?
Oh, and a great, big Happy Anniversary to my boyfriend! (although he doesn't really read the blog...he lives it. lol). We've been together for 5 years now...what a great Valentine's Day to celebrate! We're doing a quiet night at home, and then possibly visiting the Cape over the weekend. I would love to have this done by then...very sea worthy! What are your plans?